The place for V-Guitarists
BOSS/Roland GK / 13-pin / Katana / Fender Mustang™ Accessories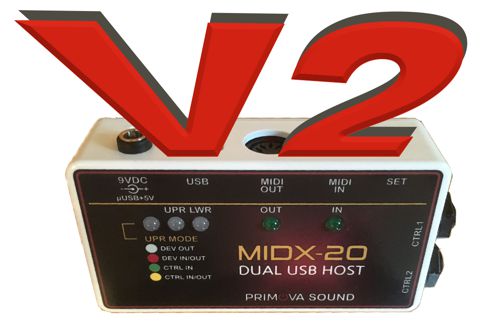 UNLEASH MORE MIDX-20 FEATURES
NEW FIRMWARE AVAILABLE!
Click here to read more at the MIDX-20 DOWNLOAD page
PRODUCTS


"MIDX-20" Unique BOSS/Roland Compatible Dual USB-To-MIDI converter, Fender Mustang™ MIDI Bridge


* 5-Pin MIDI with any Katana, GP-10 or GT-001. Now it's possible!!!
* Controll you Mustang™ using MIDI
* Add two more Expression pedals/Dual footswitches and express yourself using MIDI.

Use your your favourite FOOT controller. Connect to your favourite 5-Pin External Synth or iPad Soft Synth. Also compatible with any MIDI compliant devices/controllers.



In stock





Click here for full MIDX-20 product info

"GKFX-1" Piezo Subsonic Filter


Connect it into the GK signal chain and improve:
- PCM Tracking and ghost note immunity
- COSM Tracking and ghost note immunity
- Lower noise when Palm muting at bridge
Most noted effect on GR-55, VG-99 with Piezo guitars.

GK cable included (1 meter)



Sold out





Click here for full GKFX-21 product info

"GKPX-14" Four Synth Selector

with 4 GK outputs
(GKP-4 / 2 x US-20 clone)
Very small and affordable 4 GK parallel box allowing you to connect up to four Roland synths to your GK guitar. Full control of VOL and S1/S2 routing. Can be used as synth unit selector.

Internal Subsonic Filter option available
(F-Version)



In stock





Click here for full GKPX-14 product info

Roland GK compatible 13-pin cable. Gold plated with locking contacts.
Great Quality - Great Price !!!
13 wire straight through 28AWG+AL+braid (64 bare copper).

IN STOCK,
0.5m Straight-Straight
1m Straight-Straight
3m Straight-Straight
3m Straight-Angled3m Stright-Angled
5m Straight-Straight
5m Straight-Angled





Click here for more info

LATEST PRICES HERE:





Contact us for availability (things come and go) All Payments using PayPal. World-wide shipping.



To ask questions/quote/check availability or to place an order,
please e-mail
sound@primova.se
THE PRODUCTS ARE HAND MADE AND ASSEMBLED/TESTED IN SWEDEN


Web page last updated 2017-07-25
Primova AB (Ltd) started in 2007 and is primarily a Swedish software consulting company.
The "Primova Sound" initiative was introduced to deliver more musical fun to the world :-)
OLDER PRODUCTS -
NO LONGER MADE


"MIDX-10" Unique BOSS/Roland Compatible USB-To-MIDI converter


5-Pin MIDI with GP-10 or GT-001
Now it's possible!!!

Use your your favourite FOOT controller. Connect to your favourite 5-Pin External Synth or iPad Soft Synth.

Compatible with any Roland/BOSS USB Device as well as any MIDI compliant devices.


PUT ON HOLD
CHECK OUT THE NEW MIDX-20



Click here for full MIDX-10 product info

"GKFX-21" Piezo Subsonic Filter


Connect it into the GK signal chain and improve:
- PCM Tracking and ghost note immunity
- COSM Tracking and ghost note immunity
- Lower noise when Palm muting at bridge
Most noted effect on GR-55, VG-99 with Piezo guitars.

GK cable included (1 meter)



OBSOLETE - SHOWN FOR REFERENCE ONLY





Click here for full GKFX-21 product info

"GKFX-11" Piezo Subsonic Filter Piezo Subsonic Filter


Connect it into the GK signal chain and improve:
- PCM Tracking and ghost note immunity
- COSM Tracking and ghost note immunity
- Lower noise when Palm muting at bridge
Most noted effect on GR-55, VG-99 with Piezo guitars.

GK cable included (1 meter)



OBSOLETE - SHOWN FOR REFERENCE ONLY





Click here for full GKFX-11 product info




"GKMX-41" Four Guitar Selector

with 1 GK output
Compact stage-ready 4 GK or regular guitar switcher. Perfect companion to a Roland GR-55/VG-99 or Boss GP-10. If a regular guitar is switched in, you may still change patch using the S1/S2 footswitches.

GK cable included (1 meter)


OBSOLETE - SHOWN FOR REFERENCE ONLY





Click here for full GKMX-41 product info

"GKMX-42" "GKMX-42" Four Guitar/Unit Selector with 2 GK outputs


Small stage-ready 4 GK or regular guitar switcher with an integrated Roland US-20 A/B Unit selector functionality. Perfect if you have two synths or plan to add one more to your rig in the future.
GK cable included (1 meter)



OBSOLETE - SHOWN FOR REFERENCE ONLY





Click here for full GKMX-42 product info