The place for V-Guitarists
MIDX-10 BOSS/Roland USB to MIDI Converter
"

MIDI-control and/or connect a Ext. Synth/iPad - Without a PC

"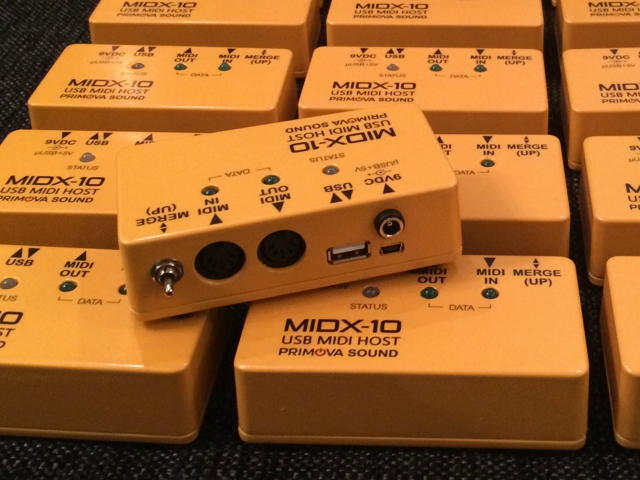 MIDX-10 is the missing link to communicate with BOSS/Roland USB devices over 5-Pin MIDI. This small unit replaces a PC or LapTop for doing USB-to-MIDI conversion.

It allow you to connect a MIDI Foot controller to fully control your BOSS/Roland unit and also allow any Guitar-to-MIDI conversion to be forwarded to an external synth or iPad Soft Synth at full MIDI speed.
Works with, but not limited to: GT-10, GT-100, GT-001, GP-10, VG-99 and GR-55

MIDX-10 is also a fully Compliant US MIDI Host for unlimited use
with any other equipment such as Fishman Triple Play (FTP) etc..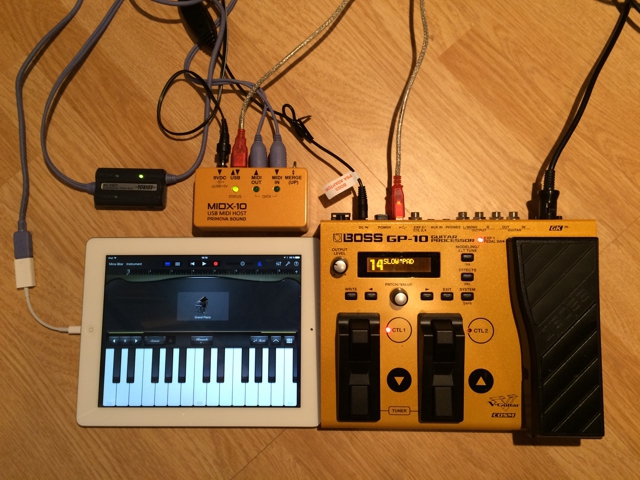 | | |
| --- | --- |
| Connectors | |
| MIDI IN | Standard 5-Pin DIN MIDI connector |
| MIDI OUT | Standard 5-Pin DIN MIDI connector |
| USB | Standard USB A (Host) connector, max 100mA |
| POWER | One standard 5.1mm connector for external power supply (not included) and one micro USB connector for phone chargers. |
| Power | |
| - | The unit is powered by standard 9V BOSS Pedal adapter or any phone charger (5V) into the micro USB connector. |
| Control | |
| LEDS | One Dual LED for connection status and two LED's indicating MIDI data transfer. |
| MERGE | The Merge (Thru) switch enables a clever function that will merge the data stream from USB with the data stream from MIDI IN and output both on MIDI OUT. If the Merge switch is OFF (normal position), only data from the USB connection will appear on MIDI OUT. |
| Software | |
| FIRMWARE | MIDX-10 firmware can be updated using a Windows PC software. At this time there's no firmware update available. If/when releasing a new firmware it will be downloadable from here. |

FOR MORE INFORMATION - READ THE MANUAL MIDX-10 MANUAL (PDF)

MIDX-10 Assistant Software(PC) for firmware upgrade MIDX-10 Software (ZIP)

Latest firmware data file 4.4 /w
KATANA, GT-1 & Mustang Bridge at CH2 MIDX-10 V4.4 Firmware (ZIP)

MIDX Katana Bridge Documentation MIDX Katana MIDI Bridge Implementation (PDF)

MIDX GT-1 Bridge Documentation MIDX GT-1 MIDI Bridge Implementation (PDF)
MIDX Mustang Bridge Documentation MIDX Mustang MIDI Bridge Implementation (PDF)
NOTE 1: To program the MIDX-10 from a PC Assistant Software you also need a USB-TO-MIDI cable (example: Roland UM-ONE MKII)
NOTE 2: To upgrade the MIDX-10 to latest firmware you need the MIDX-10 Assistant PC software and the firmware data file.
The firmware data file is a ".hex" file that needs to be extracted out of the zip file before it can be loaded into the Assistant.
The 4.1 firmware fixes issues with "MIDI THRU" and also contains the Fender Musting Bridge listeining at MIDI channel 1 (can't be changed).